Corporate governance Compliance

Corporate governance
Compliance
All employees carry out business activities to a high ethical standard so we can earn trust.
We are working to improve management efficiency, practice agile decision-making, and establish corporate ethics, putting in place a system to ensure appropriate corporate activities. With compliance positioned as the highest priority issue, all our employees carry out business activities with high ethical standards that can earn trust.
Corporate governance system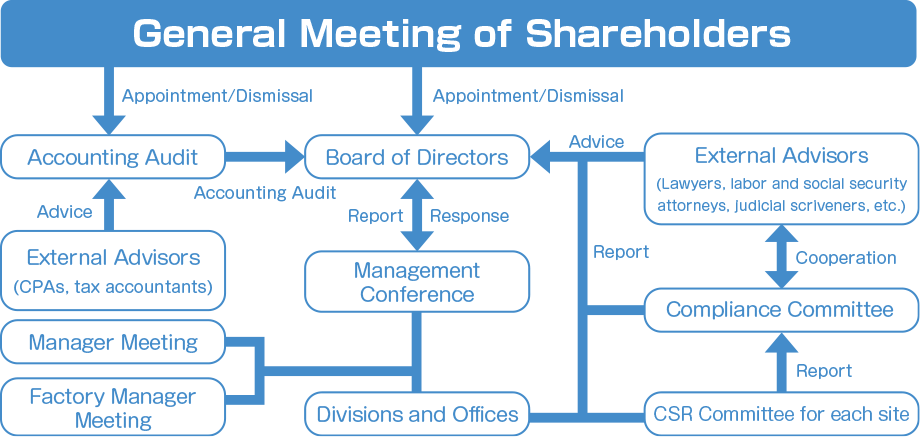 Appropriate disclosure of management information
Legitimate and appropriate transactions with business partners. Strict observance of contracts
Appropriate management of confidential and personal information
Elimination of relationships with antisocial forces
Realization of a comfortable workplace
Respect for human rights
Establishment of Compliance Committee
We have set up a Compliance Committee to build, maintain, and manage our compliance system. We will build a framework to incorporate the opinions of employees and collect opinions from outside experts, as appropriate, aiming for speedy decision-making and sound business management.
We have established and informed employees of a consultation service for employees who have found non-compliance, such as violations of laws and regulations or fraudulent activities, as well as a consultation service for harassment and mental health.
We provide employees with compliance training (study sessions, etc.). Our focus is also put on the dissemination of the Yamato-Esulon guidelines for action to nurture human resources with high ethical standards as well as active participation in social contribution activities.