In line with our CSR basic philosophy of "friendly to people and friendly to the earth," we are engaged in the development of plastic products that can coexist with nature. With a cross-departmental ESG promotion team set up, we are actively working on expanding the use of biomass raw materials (plant-derived resins) and recycled raw materials (recycled resins) as well as downgauging and weight saving to reduce the amount of resin. With the understanding that all resources such as paper and plastic are finite and precious, we will contribute to the realization of a sustainable society.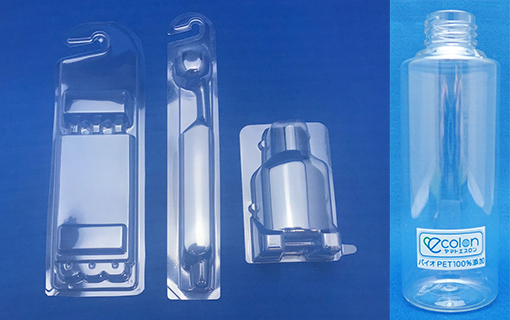 As part of our proactive measures toward the use of biomass raw materials, we are switching all our toothbrush package (blister) materials to biomass raw materials (bio-PET). We also use biomass raw materials (bio-PE) for foods and shampoo bottles to expand their applications.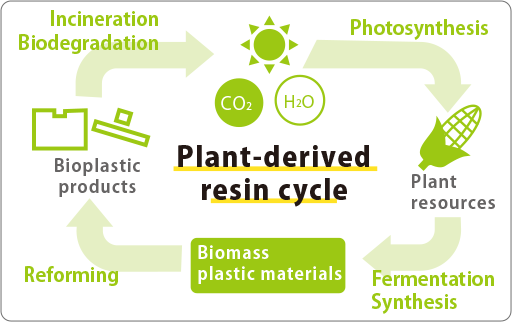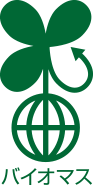 Biomass Mark
Can be obtained if a product contains biomass material (plant-derived resin). Eligible products with 10% or more of biomass material are allowed to carry the mark shown on the left. The value increases in increments of 5% for biomass material.

BiomassPla Mark
Products that can obtain this mark use renewable organic resources as raw materials and contribute to reducing the use of depleting fossil resources. The product must comprise at least 25% bioplastics from the positive list (those recognized as safe).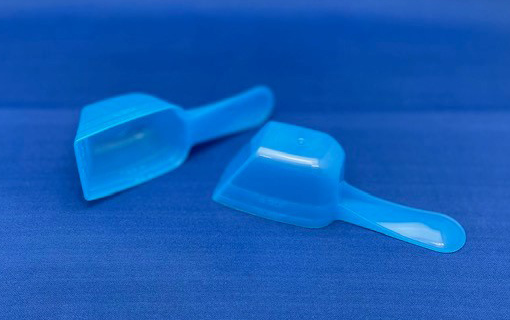 As an example of the use of recycled resin, we have established a recycling system that pelletizes waste raw materials generated on our clients' production lines and reuses them as different molded products.
We are making use of our ingenuity to reduce the amount of resin through downgauging, weight saving, and reduction of the number of parts.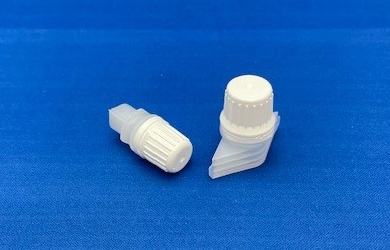 Case example: Refill spout cap
We are significantly expanding our production system for spout caps used for bottle refill pouches (bags). When comparing environmental loads with a bottle, a refill pouch can reduce weight by about 80% per item and energy consumption by about 70%, which is a remarkable reduction. From the standpoint of a material supplier, we indirectly contribute to environmental conservation.
Case example: Downgauging (weight saving) for gas barrier containers
We produce many gas barrier containers including curry containers. By innovating production methods and taking on challenges for many years, we have achieved the world's top-level downgauging (weight saving).